Driver/Delivery Delays at USPS Facilities
If you have noticed your mail being delayed lately there is a reason for that. Trucks trying to deliver drop ship mail are being held for hours to days at certain USPS facilities. Below is a picture of trucks lined up in Akron OH.
According to an article in the Akron Beacon Journal, Naddia Dhalia, a USPS Spokesperson said that the increased business is part of the reason for the long lines. "The Postal Service is experiencing significant volume increases, while at the same time employee availability has been reduced due to the impacts of COVID-19," Dhalia said. The coronavirus pandemic has driven consumers online for much of their holiday shopping this year. According to an Adobe Analytics report released last week, online holiday sales will increase 33% in 2020 compared to 2019, climbing to $189 billion.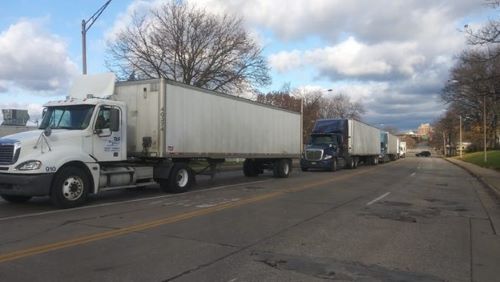 ALG Direct has been working with the USPS to alert them of excessive delays and getting assistance to unload our drivers as quickly as they can. In our conversations with the USPS we were told that these pockets of delays will continue until Christmas.
The USPS has instituted a redirect in Cleveland and Akron OH to help provide some relief to these facilities. Over the weekend the USPS then put an embargo in Birmingham, AL with NO redirect. Please make a note of this as mail is to be held until Thursday, December 17, 2020. Delays delivering mail are also being felt during processing and delivery. The top facilities we have experienced long delays (in addition to Cleveland, Akron, and Birmingham) are as follows.
Lehigh Valley

Indianapolis IN

SCF Detroit

NDC Detroit

SCF Atlanta

Baltimore, MD

North TX

Providence RI

Tulsa OK

Albany NY
This list is evolving, and we will keep our clients updated as things adjust.
The Postal Service hosts a call 3 times per week to provide updates on facility and mail delays. This call is held on Monday's, Wednesday's, and Friday's at 1PM Central and will commence through December 23, 2020. The call details are listed below for any clients who want to listen in.
Please click the link below to join the webinar:
https://usps.zoomgov.com/j/1600507792?pwd=dThOUDg2RGd2bnFYNHprcnlsWXAvQT09
Passcode: 994663
Or iPhone one-tap :
US: +15033361236,,1600507792#,,,,,,0#,,994663# or +1952-229-5070,,1600507792#,,,,,,0#,,994663#
Or Telephone:
Dial(for higher quality, dial a number based on your current location):
US: +1 503 336 1236 or +1 952-229-5070 or +1 650-581-7094 or +1 855-860-4313 or +1 678 317 3330
Webinar ID: 160 050 7792
Passcode: 994663



Birmingham Annex Temporary Embargo
Effective Monday, December 14, there will a temporary embargo of all drop shipments at the Birmingham Annex-NASS 350AX located at 4500 1st Ave S, Birmingham AL 35222. During the embargo, the facility will not accept any drop shipments and there are no redirections for the impacted mail (DADC/DSCF flats and parcels for 350-352, 354-359, 362). The facility is scheduled to resume normal drop shipment hours on Thursday, December 17, 2020 at 07:00. We apologize for any inconvenience this may cause and appreciate your patience and cooperation during this time. We will continue to provide updates as they become available.
Update: Cleveland & Akron Ohio DADC/DSCF Letters Temporary Redirection
The temporary redirection for Cleveland letters has been extended until December 22 and DADC/DSCF letters for Akron have been added to the redirection. DADC/DSCF letters for Cleveland (440-441, 444-445, 448-449) and DADC/DSCF letters for Akron (442-443, 446-447) will be temporarily redirected from Cleveland PDC-NASS 440 located at 2400 Orange Ave, Cleveland OH 44101 to Pittsburgh PDC-NASS 150 located at 1001 California Ave, Pittsburgh PA 15290. Drop shipment appointments at Pittsburgh PDC are available Thursday to Sunday from 06:00-10:00, 17:00-23:00 and Monday to Wednesday from 0600-14:00, 17:00-23:00.
We appreciate any assistance you can provide in redirecting the letters to Pittsburgh PDC as soon as possible. The temporary redirection is scheduled to end, and normal drop shipments resume at Cleveland PDC on Tuesday, December 22, 2020 at 07:00. We apologize for any inconvenience this may cause and appreciate your patience and cooperation during this time. We will continue to provide updates as they become available.